Welcome to the 31st Azure Virtual Desktop community newsletter! We now release our newsletter on Thursdays to get a wider reach and give you the ability to engage with us in a better way!
Community Stats
Sponsors
Nerdio
On the back of NerdioCon 2022, one of the Nerdio Valued Professionals, Shabaz Darr created a great YouTube video showing his experience of the conference and also a nice summary of the news. It's a great summary and I hope to see some of you at NerdioCon 2023!
IGEL
IGEL DISRUPT 2022
IGEL have announced the details or their IGEL Disrupt On Tour events for 2022!! The tour will be held across a number of cities across Europe so if you are close to any of those then get registered!!
Community
Mastering Azure Virtual Desktop
Ryan Mangan has announced that his latest book will be released on the 31st March 2022! Ryan has been busy writing this book for a while now so its great to see it finally released! You can purchase a copy from Amazon – https://www.amazon.co.uk/Mastering-Azure-Virtual-Desktop-implementation/dp/1801075026
AVD Support for Personal Desktop Unassignment/Reassignment Now Generally Available
Microsoft announced that user un/re-assignment for personal desktops is now generally available. This means that this option is now fully supported by Microsoft. The option is available in the Azure portal and also with code.
https://techcommunity.microsoft.com/t5/azure-virtual-desktop/azure-virtual-desktop-support-for-personal-desktop-unassignment/m-p/3168914
Az.Avd PowerShell module to version 2.1.3
In relation to the GA announcement, Sander Rozemuller has updated the Az.Avd PowerShell module with un/re-assignment commands. You can download the new version from the PowerShell Gallery with Install-Module Az.Avd command in PowerShell. Also the original Az.DesktopVirtualization PowerShell module is updated.
The module has two new commands Assign-AvdUser and UnAssign-AvdUser
https://www.powershellgallery.com/packages/Az.Avd/2.1.3
AVD Tip! Logon script with RemoteApp
Simon Eriksen has shared a great AVD tip where he tells how to run a custom application based on RemoteApp. When you set up RemoteApp in Azure Virtual Desktop – Microsoft has designed it to minimize the load of:
The Run registry entry
The RunOnce registry entry
The startup applications
This is to make a better and faster experience in the login phase. To get more control on what is starting or add more processes during the log in phase Simon has shared his workaround. Check his post at: https://www.simsenblog.dk/2022/03/02/azurevd-logon-script-with-remoteapp/

Step by Step Configure SSO (Single Sign-On) for AVD with ADFS from Scratch in a PoC environment part 1
Single sign-on has a great positive effect on a user login experience. Aavisek Choudhury has shared a detailed post about how to configure SSO step by step. He explained every step reinforced with a lot of screenshots. If you want to set up SSO in your environment you should definitely check his post.
You can find his post at: https://whyazure.in/step-by-step-configure-sso-single-sign-on-for-azure-virtual-desktop-with-adfs-from-scratch-in-a-poc-environment-part-1/
(Preview) NVadsA10 v5-series added to the Azure VM family
Microsoft has added a new virtual machine type to the GPU series. These series are used to get the best performance in the cloud in the case you need it. Think about working with heavy graphic toolings for CAD drawing or movie editing.
For all the specifications and sign up for the preview, check the Microsoft documentation: https://docs.microsoft.com/en-us/azure/virtual-machines/nva10v5-series
AVD Techfest 2022 Amsterdam
On 20 and 21 of April, finally, there is an in-person conference. With over 25 sessions and inspiring keynotes this continuous on the appreciated concept that you recognize from the first two Tech Fests.
Check the website https://avdtechfest.com/ for all information, speakers, and purchasing tickets.
Security Best Practices for Azure Virtual Desktop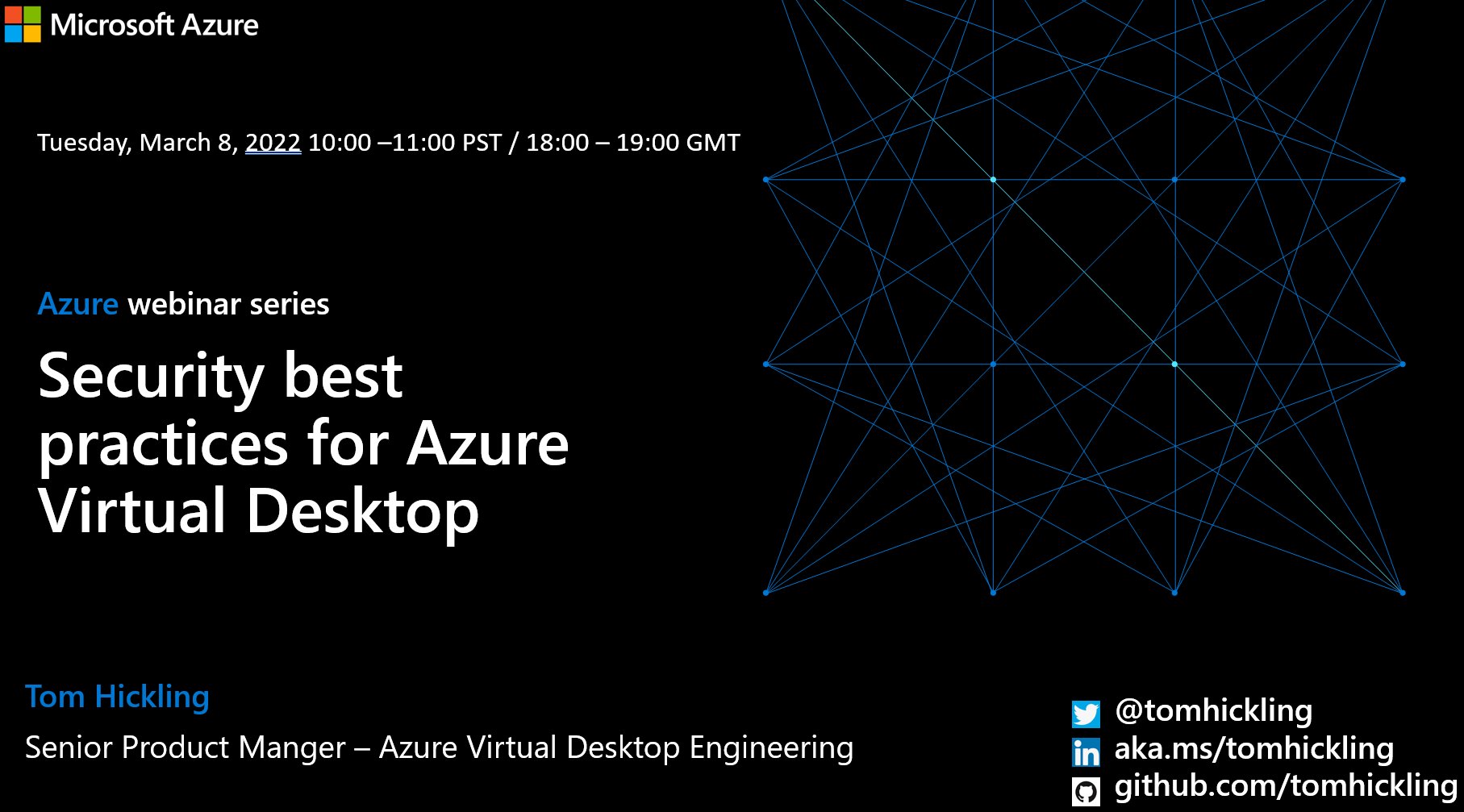 On Tuesday, March 8, 2022, 10:00 AM–11:00 AM Pacific Time, 18:00–19:00 GMT Tom Hickling organizes a webinar about securing Azure Virtual Desktop best practices. To register, check the URL: https://info.microsoft.com/ww-landing-security-best-practices-for-azure-virtual-desktop.html?lcid=en-us
Security baseline explained from an automation perspective
In relation to security, Sander Rozemuller has written a post about security baselines in Microsoft Endpoint Manager. He explains the security baseline basics and how to set up and configure baselines from an automation perspective.
Check his post at this URL: https://rozemuller.com/microsoft-endpoint-managerm-security-baselines-explained/