Welcome to the 24th Azure Virtual Desktop community newsletter! We now release our newsletter on Thursdays to get a wider reach and give you the ability to engage with us in a better way!
Community Stats
Sponsors
Nerdio
Nerdio have released their FREE NMM-100 Certification which is an exam on Nerdio Manager for MSP! If you are interested in getting certified then check out this link for more infromation – FREE NMM-100 Certification Launches to Equip MSPs with the Fundamentals of Nerdio + Azure – Nerdio (getnerdio.com)
IGEL
Igel have published their IGEL Community Meetup event from December onto YouTube. In this roundup they look back at 2021 and see what is going to happen in 2022! You can watch the video here:
Community
AVD Tech Fest
The AVD Tech Fest team have announced that their next event will be on April 20-21st 2022!! The event will be held in Amsterdam at the Hilton Amsterdam Schipol!! If you want to present then you can submit your sessions here – https://sessionize.com/avd-tech-fest-2022/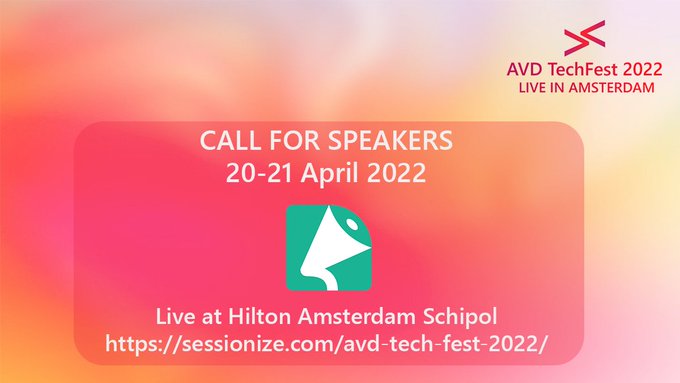 Azure Virtual Desktop Master Class
Microsoft have scheduled an Azure Virtual Desktop Master Class which you can sign up for here. This is a free event consisting of 5 different sessions. If you want to learn some new stuff this is a great class to sign up for! Register here – https://info.microsoft.com/ww-azure-virtual-desktop-master-class.html?ocid=AID3043608_QSG_564860
Secure and Optimize AVD and Cloud PC using Microsoft Endpint Manager
Sander Rozemuller has been at it again and has written a great post on how to use MEM to deploy optimization and security baseline scripts to AVD and Windows 365 hosts! He does this using automation and the graph API so definetly check this out. You can view the post here – https://rozemuller.com/secure-and-optimize-avd-and-cloudpc-using-microsoft-endpoint-manager/
Citrix Cloud and AVD – Absolute Fluff
James Kindon has posted a new blog post in which he discusses the common mis-conception about "Citrix Cloud on AVD". This is something which confuses people a lot so James does a great job of explaining the differences between the 2 services. Check out his post here – https://jkindon.com/citrix-cloud-and-avd-fluff/
100% Cloud Is Almost Here!!!
Dean Cefola from the Azur Academy has shared his latest video in his he explores Azure AD and which components can utilise it. We are nearly at a stage where we will need zero on-prem infrastructure so its a really cool time to be in IT right now! You can watch the video here:
IGEL WVD Breakout Sessions
Simon Townsend from IGEL recently have a few conversations with Tom Hickling and Michel Roth from Microsoft on some AVD Transformation stories and also the AVD Roadmap! You can catch a recording of the sessions here:
Managing Azure Virtual Desktop with Nerdio – Update Nerdio
Johan Vanneuville has writen an excellent blog post in which he goes through the steps required to update Nerdio. Nerdio have around 10-15 new features every month so its definetly worth keeping up to date. You can check out Johan's blog post here – https://johanvanneuville.com/avd/manage-azure-virtual-desktop-with-nerdio-update-nerdio/
Belgium Azure Virtual Desktop User Group
Johan Vanneuville has opened a constant call for speakers on sessionize for the Belgium Azure Virtual Desktop User Group!! If you are interested in speaking then definetly check this out or contact Johan directly. Check it out here – https://sessionize.com/seavdug/
Swedish Azure Virtual Desktop User Group
Mr T-Bone has opened a constant call for speakers on sessionize for the Swedish Azure Virtual Desktop User Group!! If you are interested in speaking then definetly check this out or contact Torbjorn directly. Check it out here – https://sessionize.com/seavdug/
Microsoft
AVD Client updated to v1.2.2851 on the Insider Build
Microsoft have updated the AVD Client to v1.2.2851 for the insider build. There are a number of fixes available for various features so definetly worth updating ASAP, especially if you are encountering the specific problems that have been fixed in this release. You can view more info here – https://docs.microsoft.com/en-us/windows-server/remote/remote-desktop-services/clients/windowsdesktop-whatsnew