Welcome to the 22nd Azure Virtual Desktop community newsletter! We now release our newsletter on Thursdays to get a wider reach and give you the ability to engage with us in a better way!
Community Stats
Sponsors
Nerdio
Nerdio have announced the new features in their Decemeber release of Nerdio Manager for Enterprise v3.4. A usual there are loads of cool new features including Multi-trigger autoscale, Windows 365 license imporvements, Trusted launch capability and much more. You can read the full release notes here – https://nmw.zendesk.com/hc/en-us/articles/360045731614-Release-Notes
IGEL
IGEL'S CEO Jed Ayres recently hosted an interview with EUC Superstar Sanjay Poonen who has previously worked at VMWare as the CEO from 2013 until August 2021. A must watch episode!
Community
AVD Tech Fest Announcement
The AVD Tech Fest team have announced that their next event will be on April 20-21st 2022!! The event will be held in Amsterdam at the Hilton Amsterdam Schipol!! If you want to present then you can submit your sessions here – https://sessionize.com/avd-tech-fest-2022/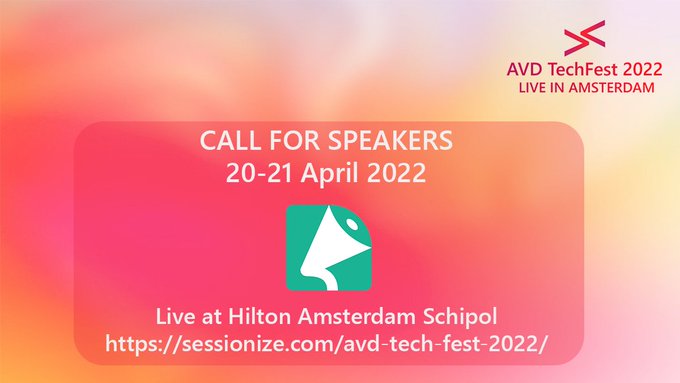 Azure Virtual Desktop Master Class
Microsoft have scheduled an Azure Virtual Desktop Master Class which you can sign up for here. This is a free event consisting of 5 different sessions. If you want to learn some new stuff this is a great class to sign up for! Register here – https://info.microsoft.com/ww-azure-virtual-desktop-master-class.html?ocid=AID3043608_QSG_564860
Upgrade Packer JSON Template to HCL2 for Azure Virtual Desktop
Stein-Erik Alvestad has written a blogpost in which he describes how to upgrade a JSON Template to HCL2 which is recommended by HasiCorp to be used by Packer. You can read his post here – https://alven.tech/upgrade-packer-json-template-to-hcl2-for-azure-virtual-desktop/
AVD Automation Cocktail – Deploy AVD AzureAD with DevOps and Az.Avd
Sander Rozemuller has written a blogpost called "Santas Tree Ride". In this post he shows us how to deploy Azure AD Joined VMs using DevOps and the Az.Avdd PowerShell module. You can read his post here – https://rozemuller.com/avd-automation-cocktail-deploy-avd-azuread-with-devops-and-az-avd/
Azure Virtual Desktop requirements, customizations and more
Jo Harder has published an article on TechTarget which goes over the requirements for AVD, customizations that you can apply to AVD and how to support an AVD environment. You can read the full post here – https://searchvirtualdesktop.techtarget.com/tip/Azure-Virtual-Desktop-requirements-customizations-and-more
Key Logical Components of Azure Virtual Desktop
Peter Smallbone shared on LinkedIn that he has created a diagram of logical components of AVD which has been published onto the official Microsoft documentation which you can see here – https://docs.microsoft.com/en-us/azure/architecture/example-scenario/wvd/windows-virtual-desktop. Great job Peter!